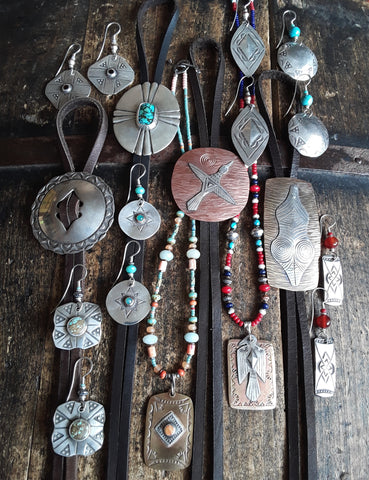 Jewelry by JJ Burton Silver
JJ Burton Silver is the trade name for Jack and Janette Burton's jewelry design.

Jack established the studio in Portland Oregon in 1975 and was an early member of the colorful community of artists and crafts-folk known collectively as The Portland Saturday Market. Mainly self-taught, Jack had the luck to hitch a ride one evening in 1974 out of Gallup, New Mexico with a fellow who offered him shelter from a night alone on a long and desolate road. He spent a couple of days with John Besenti, his family and horses at Tohatchi, Dinetah (The Navajo Nation, New Mexico). John took the time to introduce Jack to the tools and ways of Traditional Navajo Silversmithing, a lifelong gift of heritage and history.

Janette joined Jack at the workbench in 1990 and brought her wonderful eye for color and beadwork. Jack fashions the silver and bronze with traditional hand tools common to the old Dine Silversmiths, often by hand forging blanks from silver coins or hand poured coin silver ingots. They then go to Janette - she does the sterling silver wirework at her bench piled high with a lifetime's collection of colorful trade beads. Each piece is engraved with their hallmark that represents a collaborative studio ethic of two people moving as one.

Together Jack and Janette continue to honor the old ways by individually creating these uniquely American jewelry designs without the use of power tools.