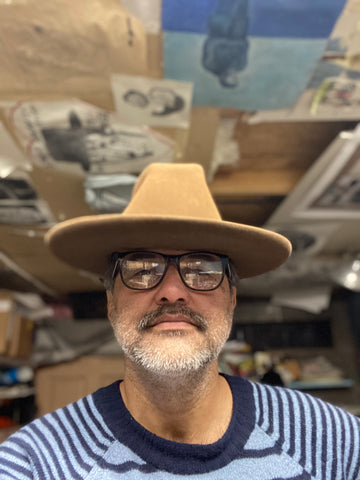 Prints by Jose "Pep" Arroyo
Jose Arroyo, aka Pep, Pepé, Pepino, lives / works in a small town 15 minutes east of East LA; father of 2; a/c man by trade; hat lover; amateur printmaker; and scribbler, his debut collection of poems—Songs of Desperation and Revenge—was recently released by Hickathrift Press. His artwork has appeared online, on the covers of books, in the liners of hats, on city walls. Born in Ventura, CA, his parents move around. He lived in Mexico and studied there for 2 years. The bicultural environment he grew up in informs his work.
This collection features hand run prints made in Jose's home workshop. His artwork has become integrally woven into our studio, packaging, and hats. We offer his work in its raw form here so that you might weave some of this beauty into your homes, offices, and lives as well.
custom pieces and commissions are available. Contact us to learn more.