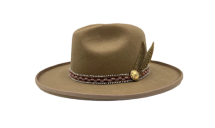 Wool Felt Hats
Our wool-felt hats are formed from dense felt body made of a unique combination of two complementary wool types: the first, free-range super soft Patagonian merino, and second, a heirloom Bolivian sheep's wool that is curly, hearty, and structured. Together they create a felt that's breathable, comfortable, and keeps its shape over the years. We finish them with a llama leather sweatband and trimmings from our artisan partners all over the globe.
Every hat is made to order, so if you have any special requests regarding brim-width, distressing, or other design modifications, please add a note to your order and we will follow-up with you.
Wool felt has been used to make hats for hundreds of years. Wool felt hats are durable, soft, and meant to last. We make our hats using free range sheeps wool from northern Argentina. Our premium hats maintain their shape because of the density of the material, not from added chemicals. Through a 34 step process the wool is matted into a felt "capeline" the first step in making a hat. After that we block the felt body into shape, add the sweat band, and the trim. A wool felt hat is both hardy and luxurious. It can get beat up, and retain its elegance. Wool felt is also eco-friendly, water-resistant, antibacterial, and ideal for controlling head temperature. The natural fibers of wool felt keeps you warm in the winter, but the air pockets between the fibers will be cool in the summer. There is really no wrong time to wear a wool hat. FAQs
Q. How durable is a wool felt hat?
Wool felt hats are meant to last. Like a pair of fine boots, a felted wool hat will age based on how it is worn. If you want to keep your hat looking new, keep it out of the elements, store it in a box, and give the felt a brushing every once in a while. However, if you want your hat to break-in and patina, just wear it! A good felted wool hat like ours can take a beating, and everytime it's worn it will feel more like yours. The blemishes collected along the way are what gives a wool felt hat its character.
Q. Are wool felt hats waterproof?
Wool felt can hold about 30% of its weight in water. If your wool felt hat gets drenched, it will lose a bit of its rigidity, but we make them extra firm to start so that there is some room for them to soften up. If your wool felt hat gets wet, make sure you let it dry on a flat surface, without the brim pressed up against anything. The wool felt will retain the shape that it is in when it dries.
Q. When is an appropriate time for a wool felt hat?
I believe that any day is a good day to wear a hat. Most obviously a felted wool hat offers physical protection from the elements; keeps the head cool in the heat and warm in the cold. A felted wool hat also has clear aesthetic benefits; framing the face, tying an outfit together, making a fashion statement, and balancing out exaggerated features (I wear a wide brim for my big nose and curly hair). What interests me most are the spiritual implications of wearing a hat. A wool felt hat made by Hampui is a tool for protection and connection. It is the union of sky and body, where we can resource ourselves for the good work of our lives
Q: Are wool felt hats unisex
We intentionally do not split our hats into mens and woman's collections. If you like it, wear it. All of our hats are unisex, genderfull, and are invited to be worn by everyone. Mens, Women's, Non-bianary, even extra-terrestrials.